United Kingdom Footfall Index
With the availability of detailed footfall data we also want to know the general national trend of footfall on retail high streets. Such national 'footfall index' is not only important for the retail industry but also for various other purposes such as policy making, economic forecasting, etc.

Since the footfall has a weekly periodicity, a standardised index could be arrived from the average footfall at every location at every week. Although this is a simplistic measure, it does a good job in describing the changes in the retail footfall in the UK as a whole. The figure above shows the footfall index for the two years - 2017 and 2018. It can be observed that retail footfall in UK starts at its lowest in the beginning of the year and increases steadily until spring. The high footfall lasts through the summer months before going down steadily towards the end of the year.. This trend changes around the fall months and the footfall reaches the highest in the first two weeks of December and falls back to the lowest in the last two weeks.
The visualisation below shows the same aggregated to 2.5km grids to show the geographical distribution of the footfall index. The visualisation is best viewed on desktop screen and a full version is available here.
UK Footfall Index: Phase I
The CDRC-LDC UK Footfall Index shows the percentage change in visitors or footfall to retail environments in the United Kingdom between two different periods of time (for example, consecutive months or days). For details about the CDRC-LDC UK Footfall Index (Phase I), please see our introductory guide (PDF). The August 2017 index is the final one produced for Phase I.
CDRC-LDC UK Footfall Index: Phase I Month-by-Month Change
-0.88%
July 2017 – August 2017
+8,78%
June 2017 – July 2017
Monthly change in footfall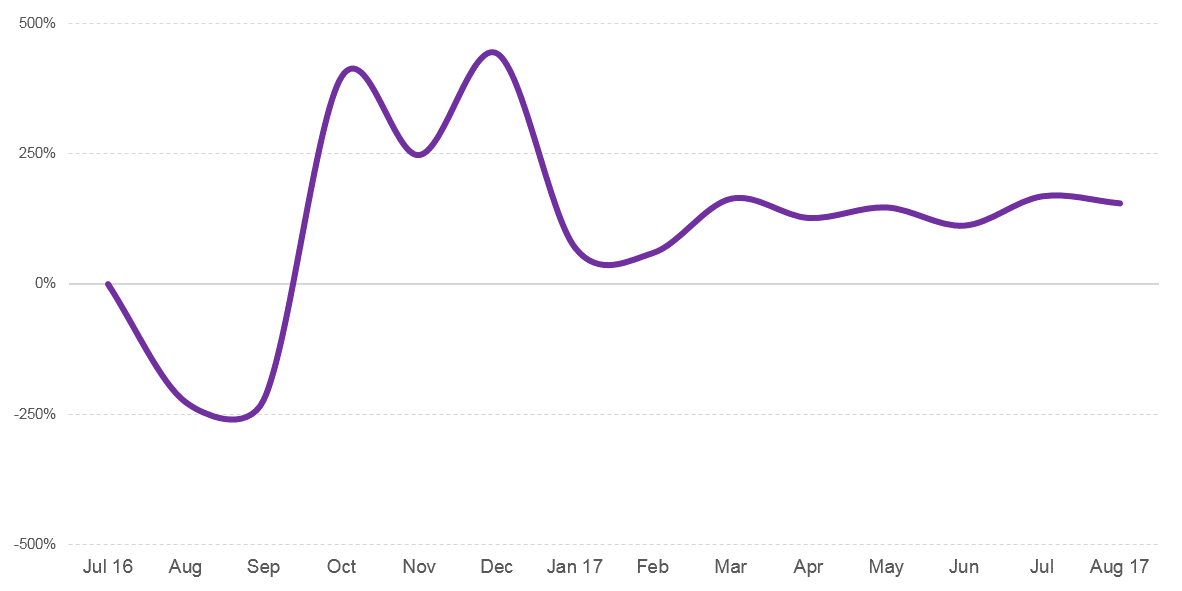 Change from July 2016
Change from Previous Month
The Footfall Index is devised by the Consumer Research Data Centre (CDRC) in association with the Local Data Company (LDC). The CDRC is funded by the Economic and Social Research Council (ESRC). The CDRC sponsor for the Footfall Index is Professor Paul Longley. The content of this web page and associated reports were written by Dr Roberto Murcio and Mr Balamurugan Soundararaj. The CDRC-LDC UK Footfall Index was created by Dr Roberto Murcio.