Data News
Masters Dissertation Scheme 2021 - 13th May 2021
CDRC's Masters Dissertation Scheme has bounced back this academic year, after the impact of the pandemic in 2020. For 2021 we have a record total of 22 proposals being received from industry sponsors. 67 students applied for projects and 22 students were finally matched with 20 projects. Sponsors include: Barbour ABI (2 projects), Blinc Partnership, Cambridgeshire County Council, Carto, Entain Group, Here Technologies, Idealista, Institute of Place Management, International Organization for Migration, Local Data Company, Movement Strategies (2 projects), Pet Care Provider, Sainsbury's, Tamoco, The Data City, The Registry Trust and Walgreens Boots Alliance
Applications were received from the following universities: UCL (38), City, University of London (6), Liverpool (6), Loughborough (6), Edinburgh (4), Westminster (2), Bristol (1), Glasgow (1), Leeds (1) Nottingham (1) and Oxford (1).
The broad appeal of the Masters Dissertation Scheme saw applications received from students studying across the following disciplines: GIS, Social and Geographic Data Science, Spatial Data Science, Advanced Quantitative Methods, Business Analytics, Environmental Change and Management, International Real Estate and Planning, Logistics and Supply Chain Management, Smart Cities and Urban Analytics and Sustainable Urbanism amongst many others.
For more details about the projects, please have a look at our website. If you are interested in participating in the scheme next year, please email Melanie Chesnokov.
Written by Melanie Chesnokov and Dr Nick Bearman.
===========================================================================================================================
Celebrating collaboration: the CDRC Masters Dissertation Scheme - 13th May 2021
The CDRC Masters Dissertation Scheme, now in its tenth year, has been successfully run by the Consumer Data Research Centre for the last seven years. See above for more information about the scheme in 2021. The event celebrated the success of the scheme, and explored the changing nature of academic-industry collaboration. Masters students who had gone through the scheme presented project case studies, and a selection of alumni spoke of the positive impact the scheme had had on their data science careers. A panel session rounded off the event with a discussion of the possibilities and ambitions for the next seven years of the Masters Dissertation Scheme. The event was attended by industry partners, MDS alumni, and the CDRC team including Paul Longley, Alex Singleton, and Jonathan Reynolds. The full details and talks are now available including:
CDRC: Where are they now? MDS 7 years on: Dr Jonathan Reynolds, Deputy Director (Oxford), CDRC
The business of engagement: the firm's perspective: Martin Squires, Director of Advanced Analytics, Pets at Home.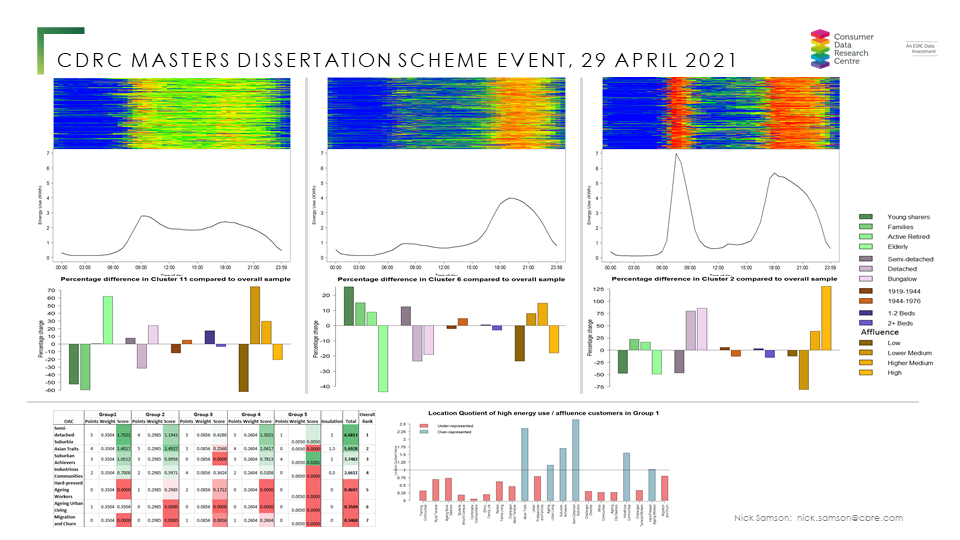 Nick Samson, 2014 MDS alumnus. Dissertation at British Gas. Project title: Can smart meters save consumers and British Gas money and carbon by pinpointing which consumers are most likely and best placed to install insulation in their homes?
A selection of MDS alumni spoke about how taking part in the scheme had shaped their next steps, highlighting amongst other things the difference between working with small clean data sets in a university setting and large, incomplete data sets held by companies; how the work for their sponsors had shaped their career decisions, and how some of them had decided to stay academia:
Nombuyiselo Murage (MSc Geographic Data Science, University of Liverpool) spoke about life after completing her dissertation Tamoco in 2021.
Alec Davies (MSc Geographic Data Science, University of Leeds) from Pets at Home talked about how his MSc work with Sainsbury's influenced his career.
Christian Tonge (MSc Geographic Data Science, University of Liverpool) and Cristobal Montt (MSc Data Science, City, University of London) spoke about how doing their dissertation Movement Strategies led to them staying on in the company.
Dr Anastasia Ushakova (MSc Public Policy, UCL; PhD Computational Social Science) highlighted how her MSc work on data with British Gas and her subsequent PhD helped launch a successful academic career in academia. She is now Senior Research Associate at the University of Lancaster.
Nick Samson (MSc Geographic Information Science, UCL), Associate Director, CBRE, also spoke about how his experiences at British Gas impacted his career.
The event concluded with a panel discussion: 'The next 7 Years. Achievements and ambitions' with contributions from panellists Professor Alex Singleton, Deputy Director (Liverpool), CDRC; Samantha Hughes, Analytics Innovation Manager, Avon; Martin Squires, Director of Advanced Analytics, Pets at Home.
For more details, and the recordings, head over to our more detailed post.
Written by Melanie Chesnokov and Dr Nick Bearman.
===========================================================================================================================
Local Data Spaces: Supporting Local Authority Covid-19 Response - 4th May 2021
Covid-19 has strained already insufficient Local Authorities resources, with infection and transmission of Covid-19 further exacerbating existing social inequalities. Four CDRC academic researchers (Dr Mark Green, Dr Jacob MacDonald, Dr Maurizio Gibin and Simon Leech) have been working for the past 6 months using the Office for National Statistics Secured Research Service (ONS SRS) on the Local Data Spaces project.
The Local Data Spaces (LDS) was a novel collaboration between the Joint Biosecurity Centre (JBC), the Office for National Statistics (ONS), and ADR UK. This project was set up to support local authorities, groups and stakeholders respond to the COVID-19 pandemic using granular and secured data and research driven analyses.
After engaging the JBC and 25 local authorities, we identified two consistent core research priorities which focused on broader COVID-19 health impacts and inequalities, and on economic vulnerability and recovery potential. From this, we developed a series of nine reports leveraging the secured data available through the SRS infrastructure – and further replicable and generated consistently for all local authority regions across the country (and available via the CDRC Geodata Packs platform).
For each local area, a set of reports are built to profile the themes of:
- Demographic Inequalities in COVID-19;
- Ethnic Inequalities in COVID-19;
- Geospatial Inequalities in COVID-19;
- Excess Mortality;
- Occupational Inequalities;
- Population, Housing and Affordability; Social Economy;
- Industry Densities; Economic Vulnerabilities;
- and Human Mobility.

One of the outputs in the reports, allowing used to compare changes in retail and recreation over time for the country (area) and their local authority (line).
We made use of the highly detailed administrative and survey datasets held securely within the Office for National Statistics (ONS) Secure Research Service (SRS). This included core national data products such as NHS Test and Trace, the COVID-19 Infection Survey, The Business Structure Dataset (BSD) registry and the Business Registry and Employment Survey (BRES). Non-disclosive research work was conducted within the SRS environment, and generated into the series of reports for each area across England. These data sources were supplemented where relevant with openly available datasets such as the ONS Population Estimates, Google Mobility Data, and CDRC open data products such as the CDRC Business Census, and Access to Healthy Assets and Hazards (AHAH).
From our meetings with local stakeholders, it became clear the huge variation in resources available for research and analytical capacity, and that the Covid-19 pandemic has stretched resourcing within local authorities. Local authorities co-designing analyses alongside the research team ensured the reports generated were relevant and useful, and helped fill evidence gaps at local levels.
We created non-disclosive outputs from the ONS SRS packaged into a series of reports for each local authority district in England. These reports are available through the CDRC Geodata packs platform for any local stakeholder to download. All R scripts, both for data cleaning and analyses are available for re-use by local authority analysts or local researchers in the future, enabling reproduction and even extension of the analyses. The openly-available (appropriately disclosed where necessary) code and workflow pipelines used to clean and format these datasets and produce final reports provide a number of practical efficiencies. Where local analysts have limited resources or capabilities in accessing, working and analysing massive national studies and datasets, cleaned scripts and code to bypass the data wrangling stage can be invaluable when rapid-response research outputs are needed. Alongside this, we hope this may empower those local authorities with lower analytical capacity to be able to access granular data to inform local level evidence bases.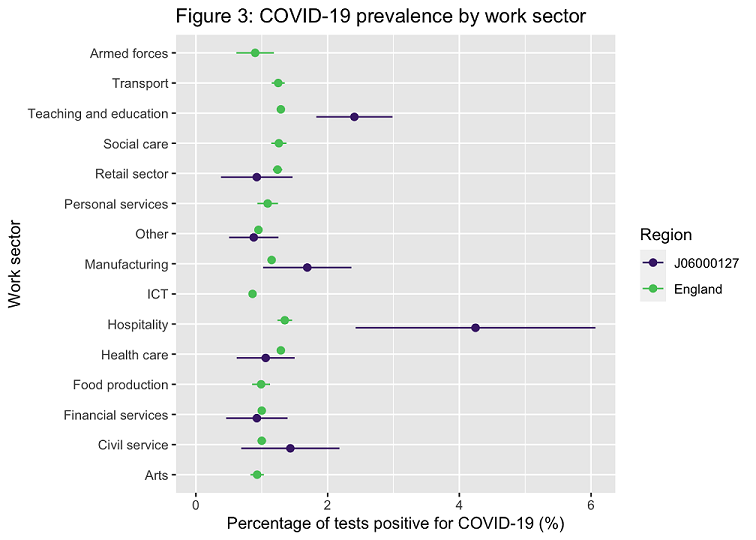 Another output from the data pack reports, allowing users to compare positive Covid-19 rates by work sector for England (green) and their area (purple).
In the short term, reports will be used by local authorities and stakeholders, allowing them access to an evidence base of the impact of Covid-19 at a local level. The way the reports and replicable code are available to other accredited researchers within the SRS (and available appropriated disclosed external to the SRS) allow local authorities to explore these avenues for their own local research priorities. Locally focused research and data is clearly in demand and this resource will be a key part in local authorities response to Covid-19.
Written by Dr Nick Bearman, Project Delivery Manager
===========================================================================================================================
Post Covid resilience of commuter towns - 19th April 2021
Utilising open source and aggregated retail data through the CDRC secure data service, co-funded Ph.D. student Abigail Hill has created an index of retail resilience and recovery from the Covid-19 pandemic for English commuter towns. Business partner Retail Economics has interested in improving understanding of the impacts of increased 'working from home' on commuter town high streets and their immediate and longer-term impacts upon retail resilience.
Abigail's analysis develops six case studies and finds that of these Guildford has the most resilient commuter town high street, while Rochdale has the least. Cluster analysis also reveals that despite Rochdale high street's relative weakness, some of the retail areas that adjoin it have better prospects, especially where retail activity projects a strong and unified image. GIS analysis also found that there are specific parts of both Guildford and Rochdale high streets that share similar levels of retail vacancy and occupier turnover and which may each require tailored interventions to restore stability.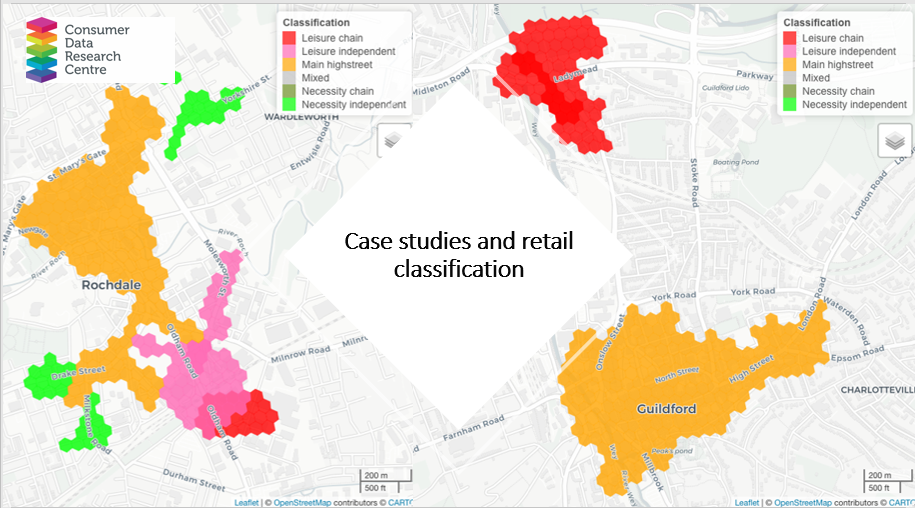 Classifications for Rochdale and Guilford
This research project was carried out as part of a co-funded Ph.D. with the Local Data Company (LDC) under the ESRC Accelerating Business Collaboration scheme. The work had two related components.
First, a resilience index for commuter towns was developed using data sources to represent four domains: wealth, vacancy, retail composition and consumer spending. Office for National Statistics (ONS) open data were used to create indicators of local income, occupational structure, house prices, relative location and consumer spending. Local Data Company data on location, retail unit type and vacancy were used to create summary indicators of high street and adjoining area vacancy rates, levels of trading in essential retail categories, share of chain store occupancy and presence of leisure venues. The methodology entailed data standardisation and factor analysis.
In the second stage, the highest and lowest ranked towns were used to develop detailed case studies. Retail boundaries were developed using LDC data and used to explore the vitality of high streets and adjoining areas. DBSCAN and hierarchical clustering techniques were used to identify areas within high streets that merited locally targeted interventions.
The majority of the data sources used were open data. Secure LDC data were also used to create data aggregations used to create retail area boundaries.

Occupier change and Vacancy for Guildford
Reflecting on the project, Retail Economics CEO Richard Lim said:
'This was an extremely valuable piece of research to Retail Economics which focused on a very important emerging trend in the industry. The research was timely, relevant and forward looking. The process was also well-managed and all stakeholders worked together well to add value in their respective areas of expertise.
In particular, Abi was well organised, enthusiastic and a great communicator which helped keep the project on track and delivered within the time scales set out at the start of the year. The final presentation of the research was delivered in an engaging and succinct manner, aligning very much to the business community.
We will look to leverage value out of the research in our internal analysis to assess the impact of Covid-19 on shopping habits with a particular focus on the commuter belt. There is a depth of quality and rigour within the research that provides confidence in the initial findings that we can share with our clients. Overall, an excellent piece of research. '
The Retail Economics website is https://www.retaileconomics.co.uk/about.
Written by Dr Nick Bearman, Project Delivery Manager
===========================================================================================================================
Digitising Historical Telephone Directories with BT Archives: GISRUK Best Short Paper Award - 19th April 2021
CDRC collaborative Ph.D. student Nikki Tanu and Senior Research Fellow Dr. Maurizio Gibin were awarded the 'Best Short Paper' award at the 2021 GIS Research UK (GISRUK) online conference on 16 April 2021. Their paper, 'Georeferencing historical telephone directories to understand innovation diffusion and social change', described pioneering work in the digital capture and georeferencing of the 1881 telephone directory. The work demonstrates proof of concept that will be rolled out to digitise selected directories up to the 1980s and will make it possible to chart the spatial and social diffusion and use of fixed line telephony in the 19th and 20th centuries.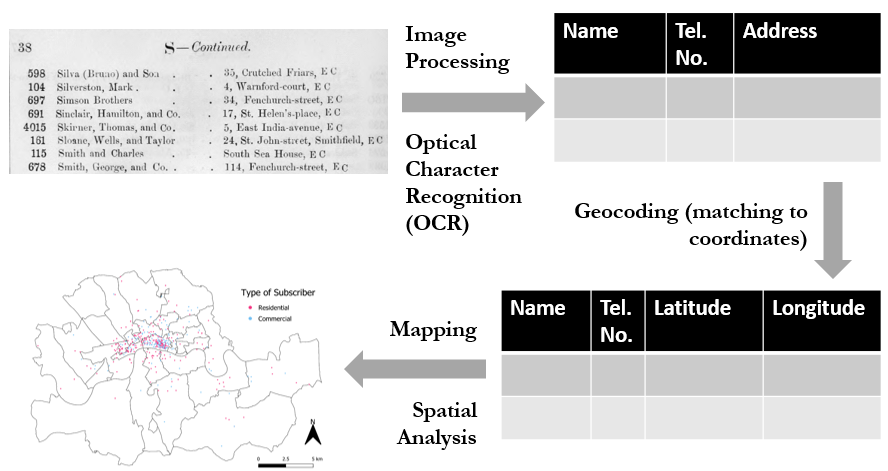 Process of optical character recognition and geocoding used on the telephone directories
CDRC researcher Meixu (May) Chen was joint winner of the Sinesio Alves Junior Prize (https://www.ucl.ac.uk/bartlett/casa/remembering-sinesio-alves-junior) for work undertaken whilst she was working at CDRC in Liverpool.
Congratulations to May, Maurizio and Nikki!
Written by Dr Nick Bearman, Project Delivery Manager
===========================================================================================================================
CDRC Supporting Development of Sktime - 18th Feb 2021
Markus Löning is a PhD student at UCL with the CDRC, and is one of the lead developers of sktime - a Python library for time series machine learning. Time series analysis is a challenging area and many existing tools do not work well with time series data.
Solving data science problems with time series data in Python is challenging.
Why? Existing tools are not well-suited to time series tasks and do not easily integrate together. Methods in the scikit-learn package assume that data is structured in a tabular format and each row is i.i.d. — assumptions that do not hold for time series data. Packages containing time series learning modules, such as statsmodels, do not integrate well together. Further, many essential time series operations, such as splitting data into train and test sets across time, are not available in existing Python packages.
To address these challenges, sktime was created.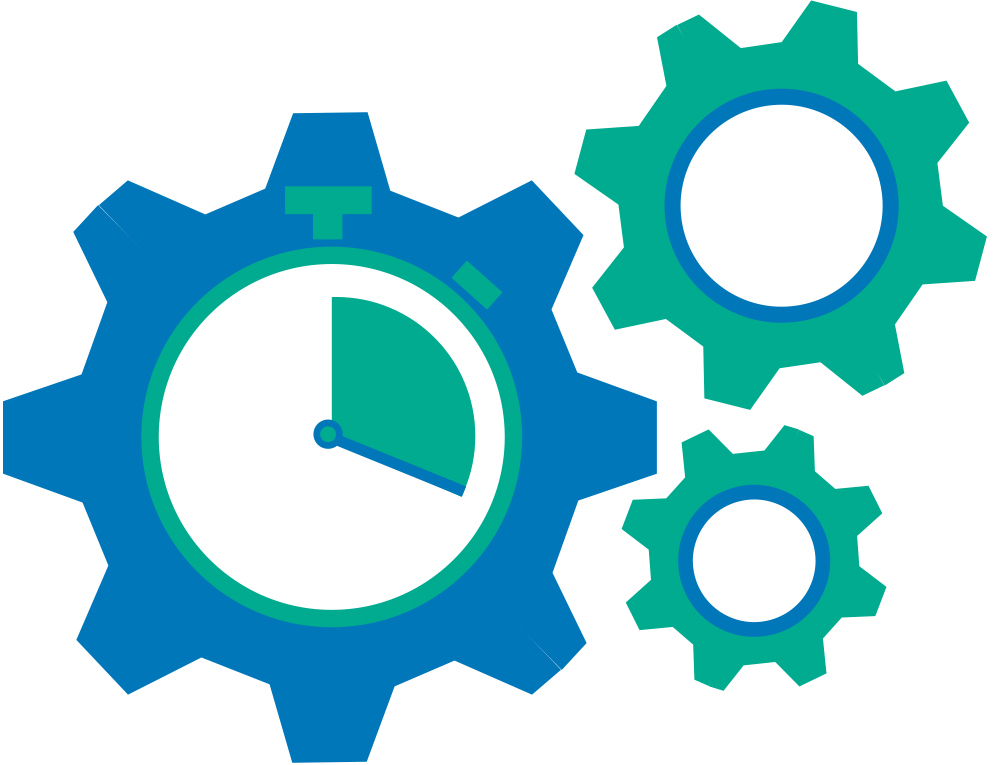 Logo of the sktime library (Github: https://github.com/alan-turing-institute/sktime)
sktime is an open-source Python toolbox for machine learning with time series. It is a community-driven project funded by the UK Economic and Social Research Council, the Consumer Data Research Centre, and The Alan Turing Institute.
sktime extends the scikit-learn API to time series tasks. It provides the necessary algorithms and transformation tools to efficiently solve time series regression, forecasting, and classification tasks. The library includes dedicated time series learning algorithms and transformation methods not readily available in other common libraries.
sktime was designed to interoperate with scikit-learn, easily adapt algorithms for interrelated time series tasks, and build composite models. How? Many time series tasks are related. An algorithm that can solve one task can often be re-used to help solve a related one. This idea is called reduction. For example, a model for time series regression (use a series to predict an output value) can be re-used for a time series forecasting task (the predicted output value is a future value).
Mission statement: "sktime enables understandable and composable machine learning with time series. It provides scikit-learn compatible algorithms and model composition tools, supported by a clear taxonomy of learning tasks, with instructive documentation and a friendly community."*
sktime is a great example of the user community coming together to produce a understandable, compatible, standards based, open source tool to solve a specific problem. CDRC is proud to support the project through Markus's involvement and aims to provide similar support to many other projects in the future.
For more details, please check out this blog post by Alexandra Amidon.
Written by Dr Nick Bearman, Project Delivery Manager
===========================================================================================================================
Understanding and Comparing Mobility Data - 4th Feb 2021
Through the ABC (Accelerating Business Collaboration) Research Programme, funded by ESRC & UBEL, PhD candidate James Todd worked with Geolytix to validate the representativeness of mobile mobility data from Unacast. Geolytix were interested in gaining a deeper understanding of how comparable their (Unacast) data is to alternative mobility data sources as well as insights into the factors that influence the number of devices that are found within small geographical areas.
Overall, the analysis within this project finds that Unacast mobility data is a comparable to many alternative mobility data sources, observing a 70-100% decline in activity by the start of April 2020 across the vast majority of mobility data sources.
This research project composed of 2 main methods. Firstly, a descriptive analysis of mobility trends in London were assessed by comparing Unacast mobility data to a large number of open mobility data sources (Google, Apple, Purple, Open Table, Transport for London, City Mapper, Santander Bike Sharing). Using this method, it was possible to visually compare multiple mobility data sources within the context of Covid-19 lockdown restrictions.
| | | |
| --- | --- | --- |
| Dataset | Description | Source (link) |
| Unacast | Mobile mobility data | Geolytix (private) |
| Google | Categorised mobility data | Google (open source) |
| Apple | Categorised mobility data | Apple (open source) |
| SSS | Wifi footfall data | CDRC (private) |
| Purple | Wifi footfall data | Purple (open source) |
| Open Table | Restaurant reservation data | Open Table (open source) |
| TfL | Transport use data | TfL (open source) |
| City Mapper | Mobility index data | City Mapper (open source) |
| Santander Bike Sharing | Bikeshare activity data | CDRC (open source) |
| Open Street Map | Geographical features data | OSM (open source) |
Table 1. Sources of Mobility Data used in this analysis
To enable a deeper understanding of the representativeness of Unacast data, statistical regression analysis was conducted. A fixed-effect regression was conducted to find the representativeness of Unacast mobile devices in relation to the Local Data Company's (LDC) Smart Street Sensor (SSS) footfall data. In addition to this, a linear regression was conducted to find the relationship between Unacast mobility data to local geographic features taken from Open Street Map (OSM).
Geolytix were very happy with the project. Blair Freebairn (CEO Geolytix Ltd), said "The work is valuable to us in and of itself, but also as it has sparked additional areas of interest. In particular the comparisons to other broad brush indicators of human movement has provided context and reassurance as to the high-level appropriateness of mobility data. The micro correlations at site level are well elucidated and have shed new light on the nature of mobility data."
James Todd, PhD candidate, said "This experience has been extremely valuable as it has given me insights into the private sector's area of interest in the context of mobility data, which I have been working on within my PhD. This has given me many ideas on how I would like to adapt my PhD to include similar analysis as part of an empirical chapter."
Written by Dr Nick Bearman, Project Delivery Manager
===========================================================================================================================
DUG Conference: Data Analysis in a Crisis, plus CDRC Masters Dissertation Scheme - 11th Nov 2020
On Tuesday 10th November, the retail industry DUG (Data Analysts User Group) hosted its annual conference on the theme of Data Analysis in a Crisis. Consonant with this theme, the usual industry-led event could not take place at the usual Royal Society venue this year, but nonetheless attracted an audience of 70 participants online using WebEx.
Full details of the programme and activities are available on the DUG website, including videos of the presentations. DUG Director Tim Drye opened the proceedings with an overview of the science and art underpinning the Data Analyst role, illustrating that foundations from each are essential to understanding data and presenting them to an audience in an intelligible manner.
Mark Stern, Eoin Gleeson and Fraser Gray from Ladbrokes Coral then addressed the organisational setting to high performance data analytics through effective team-building, drawing upon their many varied experiences.
Prof. Paul Longley then introduced the CDRC Masters Dissertation Scheme, noting upcoming launch of the 2021 scheme and the opportunities that it offers for career-enhancing interactions between business, academia and student-centred problem-solving. (The website has more information and can be used to make enquiries or submit projects.) Four selected students who took part in the 2020 Masters Dissertation Scheme then presented their collaborative work:
All of this year's Masters Dissertations were submitted to the annual national CDRC competition, judged this year by Sarah Hitchcock (Geolytix) and Martin Squires (Pets at Home and UCL Visiting Industrial Professor). This year's winner of the £500 cash prize was awarded to Lucy (Ludmila) Sabelnikova, and the two runner-up prizes were awarded to Nombuyiselo Murage and Samuel Li. Nombuyiselo also won the Presentation Prize for her contribution to the DUG conference, with honourable mentions also going to Samuel and Ludmila.
Congratulations to all the prize winners, and thank you to Lucy, Sam, Nombuyiselo and Taeyang for the excellent presentations., that will be made available as part of the conference proceedings.
The presentations were followed by a presentation from Dr Andrew Larner that took stock of how local councils are adapting to the Coronavirus, bringing together a range of experiences from across the globe. The contribution of the National Statistician, Professor Sir Ian Diamond was unfortunately cancelled because of technical issues.
Gary Cole highlighted the benefits of DUG membership and outlined how DUG is now moving forward, and Tim Drye wrapped things up sharing his reflections from the meeting.
It was a great opportunity to hear from industry, and see how the CDRC Masters Dissertation Students completed their projects over the summer. If you are interested in submitting projects for next years Scheme, please have a look at our website. If you have any questions, please email projects@cdrc.ac.uk.
Written by Dr Nick Bearman, Project Delivery Manager
===========================================================================================================================
CDRC Masters Dissertation Scheme at Registry Trust: skills, experience and employability - 9th Nov 2020
Millie Corless completed her masters dissertation through the CDRC Masters Dissertation Scheme (MDS) with the Registry Trust. I spoke with her after she completed her degree to find out what it was like. The scheme really appealed to her, and it was one of the parts of the MSc Geospatial Data Science (GDS) degree at University of Liverpool that convinced her to apply for that Masters programme. Our industry collaborations allow us to provide projects that have real world impact, giving students the experience of working with a real world dataset, and feeding into the industry partners work.
The Registry Trust is a small company (~ 30 staff) and had one person in their data analytics team. Millie gave them the extra capacity to ask a MSc GDS student with skills and experience in GDS and coding to take one of their data sets which they hadn't had much work done on it, and spend a significant amount of time analysing the data. The Registry Trust were fairly sure the data set had a good story within it, about the scale and patters of county court judgements for indebtedness but they didn't have the time or expertise to dig into this and find out the details. Offering the project through the CDRC MDS allowed them to get someone with the skills and time to do this.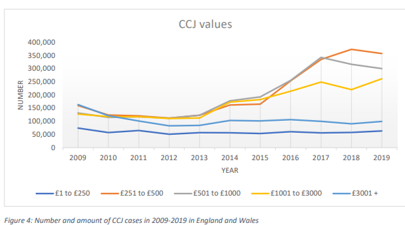 Throughout the scheme, the projects vary but they always have some degree of flexibility for the student to focus the project on their areas of interest. For example, Millie is very interested in health and she looked at the CCJ data and explored its' relationship with health. She met with a number of different people to develop and refine the project proposal, including her industry supervisor (the current data analyst) and others from Registry Trust, including the CEO and Chair of the company. One of the benefits of working with a small company (30 staff) is that she was able to work closely with a range of staff members and they gave her some great insights into working in industry. She felt like she was working within a bigger team for her dissertation; there was a group of people she could go do for advice, including her academic supervisor, her industry supervisor, and others within and outside the Registry Trust.
This project also had a great real world impact; the analysis Millie completed has fed into a blog post by the Registry Trust, and future projects and their policy recommendations. The real world impact was one of the elements that Millie really liked about the Masters Dissertation Scheme, and the Registry Trust project in particular. The fact this project already existed was a great help for Millie – "it allowed me to concentrate on the project rather than needing to come up with a topic. I also knew I was interested in health, so the flexibility within the project allowed me to include that in my research questions and analysis which was great."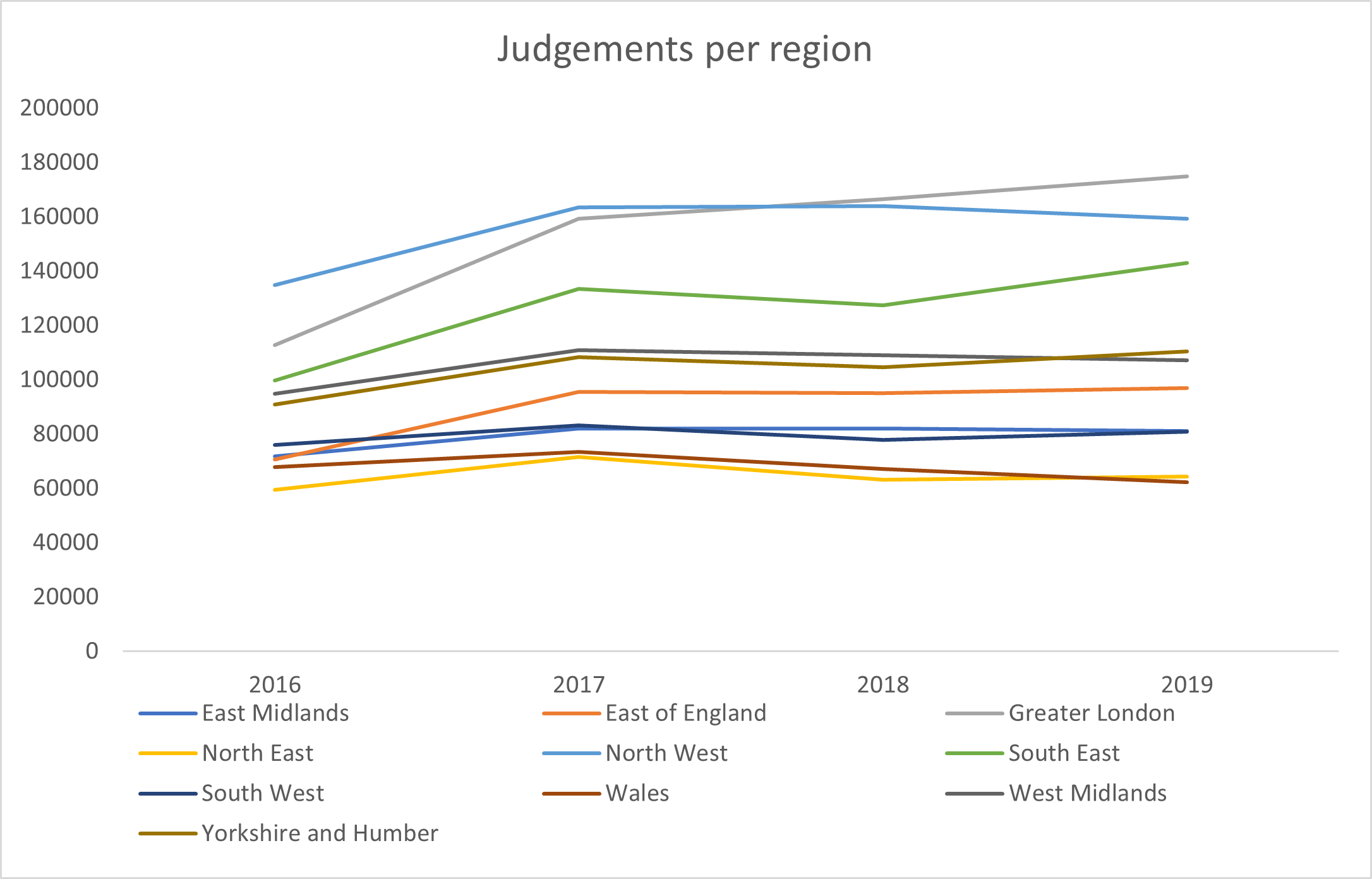 More details on her research are available in the Registry Trust blog post and in her dissertation.
After the scheme, the position of Data Analyst within in the Registry Trust became available, Millie applied and is now working full time for the Registry Trust. "I applied and was interviewed with a number of other candidates, but having taken part in the Masters Dissertation Scheme, I already knew the data sets they were working with and the type of analyses they were interested in which gave me an advantage." Her role as Data Analyst is developing the in-house skill set that the Registry Trust can utilise and will feed into a number of projects and outputs over the coming year.
Her recommendation to anyone considering applying for the Masters Dissertation Scheme is to "go for it". The scheme gave her great experience and looks good on her CV, and going forward into any career (in industry or academia or elsewhere) the Masters Dissertation Scheme shows you are interested in the application of the skills you have learnt and gives you experience of working with others in industry.
The Scheme will be open soon (November) for businesses proposing projects, and then available in the new year for masters students to apply. Please have a look at https://www.cdrc.ac.uk/education-and-training/masters-dissertation-scheme/ for more details.
Written by Dr Nick Bearman, Data Services Manager.
===========================================================================================================================
CDRC Open Data Survey & Prize Draw - 29th Oct 2020
The CDRC is currently conducting a review of past and ongoing applications of our data sets.
Users of our open data services are invited to participate in a short survey. Completing the survey will automatically enter you into a prize draw, with a chance of winning one of four Amazon gift vouchers:
1 x £200
1 x £100
2 x £50
We will contact the winning participants with details of how to claim their prize shortly after the survey closes on November 13th 2020.
We are gathering information to track the applications of our data services and to better develop our services with our users' needs in mind. As an open and accessible data service provider, user feedback is crucial to improve the service CDRC provides and to maintain CDRC as a user-centric platform.
All of those users who have registered to access our open datasets should have received an email for the survey. If you have not, and would like to contribute, the survey is available online at https://liverpool.onlinesurveys.ac.uk/cdrc-open-data-survey.
Please contact james.brookes@liverpool.ac.uk or info@cdrc.ac.uk if you have questions about completing the survey.
Written by Dr Nick Bearman, Data Services Manager.
===========================================================================================================================
Secure Labs Reopening and Remote Data Service - 7th Sept 2020
It has been a very interesting few months, with many of our working practices changing, with both positive and negative changes. I am very happy to announce that our secure labs in London and Liverpool are now re-open, with Covid safe rules to allow users safe access to the labs. We will be in touch with lab users, do please contact us if you have any questions.
As one of the Economic and Social Research Council's data infrastructure investments, CDRC was asked to join a recent meeting discussing how we have been able to respond to COVID-19, both in terms of what our research has been used for, and how we have pivoted to provide more services online. We have had to adapt to and change how we work, often on a relatively short timescale, but hopefully for a better experience overall.
New Remote Secure Data Facilities
One of our main developments which is being rolled out is secure, remote access to some of our Secure data sets. Making data available through UCL's Data Safe Haven allows us to provide access to some of our secure data sets which were previously only available within our secure labs, requiring a physical visit to London or Liverpool. We have had to renegotiate our data licensing agreements with our data partners to enable this, so currently only some secure datasets are available using this method.
Data Safe Haven is an ISO 27001 accredited facility, with 2 factor authentication ensuring that only those who are allowed to access the data can. We have also implemented our standard secure data output checking, ensuring that any outputs from the lab are secure and non-disclosing.
Remote Working
All of our staff are now working from home which has required us to update our working practices. Both UCL and University of Liverpool have now adopted Microsoft Teams, and working within the Teams framework has allowed us to simplify and rationalised our collaboration, scheduling and document management processes. We must always remember the variety of people's opinions, with some of our staff very keen on home working, and some very keen to get back to the office as soon as possible. With many of our staff in London, space at home is often at a premium, particularly for a full time home office, which many of us never envisaged before.
One change this has precipitated is a move to electronic signatures for signing user agreements. Spearheaded by UCL Legal, we are now able to accept electronic signatures (using Adobe's DocuSign process) on our user agreements, removing the need to print, physically sign and scan documents.
The last six months have brought new ways of working, and new approaches to all of our lives – who would have thought that everyone wearing face coverings would become accepted in everyday life? We will continue to keep you up to date with developments with our Secure Labs and new remote secure data technologies.
Remote Training
We have also been able to move all of our training provision online, with a number of courses run through Zoom recently to enable online delivery. We are also in the process of developing two new courses (Advanced GIS Methods Training: AHAH and Multi-Dimensional Indices and Advanced GIS Training Methods: IUC and K-means Clustering) which will be delivered online in the autumn. Check out the links for more details. Whilst online training is not the same as in person training, it does have the advantages of not requiring travel, and overnight stays, which is a bit positive to many people.
We will continue to provide updates to how our service changes and develops. If you would like to use our data, or if you have any questions, please do get in touch via at nick.bearman@ucl.ac.uk or info@cdrc.ac.uk.
Written by Dr Nick Bearman, Data Services Manager.
===========================================================================================================================
Home Working and Horizon Scanning - 2nd April 2020
Work has been transformed by the coronavirus crisis with remote working now the norm for millions of workers. But distance from the office is also providing some opportunities to take a wider perspective of the data landscape and to scan business horizons using data sources that we might have overlooked or never investigated in detail.
The CDRC Data Store remains open for business, and our Open and Safeguarded data products are available as normal. Our Secure labs are closed for the duration of the crisis, but we are still accepting Secure data applications for access when things return to normal.
For students, our Masters Dissertation Scheme is still running with a record number of projects for students to complete in the coming months using business and CDRC data. The scheme gives Masters students registered at any UK university a unique opportunity to engage with horizon scanning or other business problems using novel datasets and interesting business perspectives on applied problem-solving. In the past, many participating students have carried out work at the businesses office, but this year students are being offered opportunities to work with businesses through homeworking for the duration of the crisis. The Scheme still brings together the best of academic and business perspectives upon applied problem-solving. Academic supervisors similarly gain the opportunity to collaborate on potentially high impact research with the business community.
So… if you are a Master's student interested in collaborating with business, but can no longer do this through fieldwork or primary data collection, why not click here to see if any of the CDRC projects interest you? A number of the organisations that we work with are very keen to use part of their homeworking to coach students in the workings of business, especially if you have relevant skills and ways of working to offer!
We also have the CDRC Data Store which has a wide range of data sets available, some of which may be very useful in your dissertation or current research.
Written by Dr Nick Bearman, Data Services Manager.